Light Industry & Science Park IV
SPPI's latest industrial park, LISP IV,is designed as a true live-work community and includes a 170-hectare industrial area, a 10-hectare vibrant retail & institutional destination and a 40-hectare residential neighborhood located at the heart of Malvar, Batangas.
Lying in the grassy plains of Malvar, Batangas, LISP IV is the latest industrial estate project by Science Park of the Philippines, Inc. (SPPI). It has numerous advantages, including the ability to withstand the worst recorded flooding in the area in a hundred years, and is ready for development by light manufacturing locators.
The light industrial park is part of a mixed-use property development called Malvar Cybergreen. It will be complemented by a 50-hectare commercial, institutional and residential area. About 35% of its original landscape will be maintained to preserve an environmental element that increases the quality of the park.
LISP IV,is strategically located alongside the Southern Tagalog Arterial Road (STAR), providing convenient access from Metro Manila's Commercial Business District. It is also just 35 kilometers away from Batangas International Seaport.
The industrial park has ready access to amenities and the necessary infrastructure in place for manufacturing operations.
Cebu Light Industrial Park
Malbar, Batangas
200 Hectares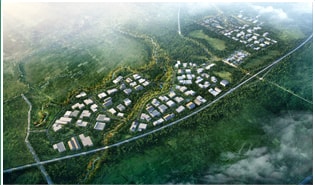 Overall Aerial View
"Architect's perspective"
Industrial Zone
"Architect's perspective"
Residential Zone
"Architect's perspective"
Commercial Zone
"Architect's perspective"
Environmentally Friendly
We believe the future of development lies in sustainability. In partnership with Sasaki & Associates, Inc. (Sasaki), a US-based firm, LISP IV was master planned with careful consideration of its surrounding environment. Our objective was to minimize the disturbance to the property's natural state, building instead around its features to create low-impact, environmentally friendly development.
Flood Resistant
LISP IV is designed to handle the worst recorded flooding in the area in the hundred years, protecting it from this type of calamity. LISP IV's topographical features allow it to utilize natural storm water management, complementing the carefully engineered water retention and detention systems. As water receiving landscapes, the protection of the ravines and their use as green infrastructure help protect the diverse native plantings, increasing the biodiversity of the area. The result of this careful master planning process is a flexible framework that maximizes the efficiency of the land, coupled with a sustainable approach to its development.
Why choose Science Park of the Philippines?
SPPI was established in 1989, and through the years, has gained the reputation of being a cutting edge developer of industrial estates through its Light Industry & Science Park projects.
Today, SPPI is highly regarded as one of the pioneers and leaders in private industrial estate development in the country and has the largest hectarage of industrial estates developed, and being developed with almost 800 hectares of aggregate area.