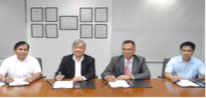 (L-R) Edgar F. Zamora, Senior Vice President for Marketing, Rommel M. Leuterio, President and COO, Michael Thorup Kruse, General Manager of Jotun (Philippines) Inc., Jeronimo M. Salonga, Assistant Vice President for Marketing.
Jotun Group, through its subsidiary, Jotun Philippines, a leading worldwide supplier of paints and powder coatings, recently signed a contract of lease for a 67,149 sq.m lot at Light Industry & Science Park III (LISP III).
A Norwegian –based global organization, Jotun Group has been supplying paint and powder coating to the world since 1926. As an established company for 87 years, Jotun Group is now present in more than 90 countries with a total of 36 production facilities located in the Americas, Asia Pacific, Europe and Middle East/ Africa.
The construction of their production facility will commence by the first quarter of 2014.
SPPI was established in 1989, and through the years, has gained the reputation of being a cutting edge developer of industrial estates through its Light Industry & Science Park projects.
Today, SPPI is highly regarded as one of the pioneers and leaders in private industrial estate development in the country and has the largest hectarage of industrial estates developed, and being developed with almost 800 hectares of aggregate area.