US-based Knowles Electronics Inc. broke ground on November 9, 2012 for its P630-million manufacturing facility located at Cebu Light Industrial Park (CLIP). The new manufacturing factory in Cebu will make speakers and receivers for major manufacturers of cellphones and consumer electronic devices.
Mr. Dan Giesecke, Vice-President of Knowles parent company, Dover Communication Technologies, said the 20,000-square-meter factory, located on a 5.7-hectare property within Cebu Light Industrial Park, will be operational by the third quarter of 2013 and may be expanded as the market grows. "Knowles delivers products to consumer electronics companies. The market for these products is expanding very rapidly," he said in a press conference.
Mr. Giesecke said the company chose to locate in Cebu among other cities in Southeast Asia, because of stable socio-political climate, well-educated English proficient workers, business-friendly environment, and proximity to an international airport and sea ports. Joseph Emmanuel Liwag, managing director of the local Knowles unit, said his office currently has 37 employees, but plans to increase workforce to 110 by yearend, 1,500 by the end of 2013, and a little over 4,000 by the end of 2014.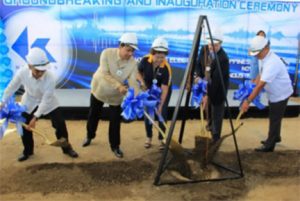 (3rd from left) Lapu-Lapu City Mayor Paz Radaza and Dover Communication Technologies Vice President Dan Giesecke bury a time capsule during the ground-breaking of the Knowles Electronics Inc. facility in Cebu Light Industrial Park in Lapu-Lapu City.
SPPI was established in 1989, and through the years, has gained the reputation of being a cutting edge developer of industrial estates through its Light Industry & Science Park projects.
Today, SPPI is highly regarded as one of the pioneers and leaders in private industrial estate development in the country and has the largest hectarage of industrial estates developed, and being developed with almost 800 hectares of aggregate area.