Last September 25, 2012, the Green Philippines Islands of Sustainability (GPIoS) awarded EcoSwitch Action Award to Science Park of the Philippines, Inc. (SPPI) for its Light Industry & Science Park I (LISP I) held at New World Hotel Makati City.
GPIoS recognized the continuous practice of LISP I on eco-efficient measures that helps minimize the effect of climate change and other negative environmental impacts and reap financial benefits from these efforts.
Among the notable projects accomplished were: installation of a pico-hydro electric generator, consolidated collection of recyclable and hazardous wastes from locators, tree planting activity and environ-mental education on climate change for Diezmo Elementary School pupils.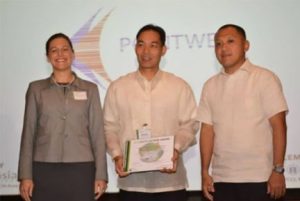 (L-R): Austrian Embassy Vice Consul Gabriel Zobl-Kratschmann, LISP I Environmental Manager Rommel Alviar, Chief Operating Officer of Asia Society for Social Improvement and Sustainable Transformation Arnel Go.
SPPI was established in 1989, and through the years, has gained the reputation of being a cutting edge developer of industrial estates through its Light Industry & Science Park projects.
Today, SPPI is highly regarded as one of the pioneers and leaders in private industrial estate development in the country and has the largest hectarage of industrial estates developed, and being developed with almost 800 hectares of aggregate area.