BAYANIHAN SA CABUYAO. Seated L-R: SPPI President Mr. Richard Albert Osmond, LLAI I President Mr. Lito Mondok, Cabuyao Mayor Rommel Gecolea and Cabuyao Vice Mayor Leif Opiña. Standing L-R: IGFI Asst. Manager Mr. Ces Alano, LISP I Park Administrator Engr. Mark Caluag, IGFI Exec. Dir. Mr. Ronnie Tapnio, CCH Chief Dr. Bong Fabros and Cabuyao Bayanica Director Dr. Mike
In response to Cabuyao City local government's appeal to support the completion of Cabuyao City Hospital (CCH) and as part of its efforts against Covid-19, the Light Industry & Science Park I Locators' Association, Inc. (LLAI I) donated medical equipment worth a total of Php5.59 million to fully equip two out of the hospital's ten intensive care unit stations. The donation was facilitated by ICCP Group Foundation, Inc., the CSR arm of Science Park of the Philippines, Inc. (SPPI), developer of Light Industry & Science Park I (LISP I).
The formal turnover ceremony for the first batch of equipment took place at the CCH grounds on January 15, 2021. The event was attended by key executives from the local government of Cabuyao headed by Mayor Rommel Gecolea and Vice Mayor Leif Opiña, LLAI I President, Mr. Lito Mondok, and SPPI President Mr. Richard Albert Osmond.
Construction of CCH started in 2018 and is now in the final stages of completion. The hospital is expected to be operational by March 2021.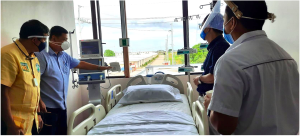 Among the donated items for the ICU stations are automated patient monitor, mechanical ventilator, portable suction machine, injection syringe pump, infusion pump, emergency cart, video laryngoscope, and a central monitoring system that connects to all of the hospital's ICU stations.