Light Industry & Science Park's Rommel Alviar was recognized by the Green Philippines Island of Sustainability or GPIoS during the ECOSWITCH Awards Night at the Asian Institute of Management last September 22, 2011. Businesses, government agency representatives and foreign dignitaries convened for the ECOSWITCH recognition which marks the end of the first phase of the GPIoS project.
The ceremony recognized organizations that successfully implement environment- friendly measures in line with the recommendations of the Project Team composed of the Asia Society for Social Improvement and Sustainable Transformation (ASSIST.) Funded by the European Union's SWITCHAsia program, the initiative seeks to contribute to an improved environmental and sustainable industrial development of Metro Manila and CALABARZON.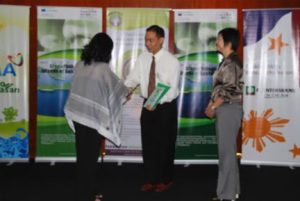 Rommel Alviar receiving the GPIoS recognition during the ECOSWITCH awards night.
SPPI was established in 1989, and through the years, has gained the reputation of being a cutting edge developer of industrial estates through its Light Industry & Science Park projects.
Today, SPPI is highly regarded as one of the pioneers and leaders in private industrial estate development in the country and has the largest hectarage of industrial estates developed, and being developed with almost 800 hectares of aggregate area.