Cebu Light Industrial Park (CLIP) locator, PEBA Trading and Manufacturing Corporation recently inaugurated its new manufacturing plant on November 24 at CLIP, Mactan, Cebu.
The biggest lot owner at the Cebu Light Industrial Park (CLIP), following the company's additional purchase of 11,435 square meters as it gradually moves its manufacturing operations from Mactan to CLIP, PEBA through its landholding company, Basak Holdings Inc., purchased Lot 4 Block 4, expanding its total land area in CLIP to 41,098 square meters.
PEBA President Bill Mallory said that the continued investment of PEBA in CLIP proves that local export manufacturers can benefit more if they locate their operation inside CLIP. He further added that locating their operation in CLIP has helped them attain a cost effective operation because of the good infrastructure and management of the park, plus the tax incentives provided to exporters by the Philippine Economic Zone Authority (PEZA). PEBA one of the top exporting companies in Cebu, started its operation by manufacturing rattan and wooden furniture which were exported mainly to the United States.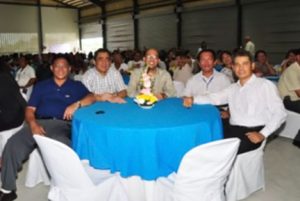 During the blessing and thanksgiving of PEBA Trading and Manufacturing Corporation in their new building located at Cebu Light Industrial Park last November 24.
In photo (R-L): Mr. Ric Cagasan, General Manager, PEBA Trading and Mfg Corp., Manager Maintenance Services, Roger Z. Abella, AVP Operations, Milben T. Estrera, CLIP VP Operations, Carlos C. Bacila, Senior Manager, Corporate Affairs, Delo Y. Aton.
SPPI was established in 1989, and through the years, has gained the reputation of being a cutting edge developer of industrial estates through its Light Industry & Science Park projects.
Today, SPPI is highly regarded as one of the pioneers and leaders in private industrial estate development in the country and has the largest hectarage of industrial estates developed, and being developed with almost 800 hectares of aggregate area.