Science Park of the Philippines, Inc. (SPPI) has achieved LEED Gold certification for its Light Industry & Science Park IV (LISP IV) Administration Building in Malvar, Batangas. Leadership in Energy and Environmental Design (LEED), developed by U.S. Green Building Council (USGBC), is the most widely used green building rating system in the world and an international symbol of excellence. Through design, construction and operations practices that improve environmental and human health, LEED-certified buildings are helping to make the world more sustainable.
The LISP IV Administration Building, through the facilitation provided by its Architect and LEED Consultant – ecoSolutions, achieved LEED certification for implementing practical and measurable strategies and solutions in various aspects of its building design and construction. Its green features include a water efficient system and a low-flow plumbing fixture that reduces water use to about 50% – 60% ; energy efficient lighting fixtures, appliances and air conditioning system; solar panels that supply 90-100% of  the building's power consumption, and  a waste management plan that ensures  91% of its construction waste was  recycled for other purpose.
Aside from the company's goal to provide a high-quality green environment with priority care for  both its employees  and the planet,  the administration  building  also has features designed to incentivize eco-friendly employees such as  bike racks and showers for those who walk or bike to work. Furthermore, electric vehicles shall be used for the internal shuttle services in LISP IV.
In addition, a fresh-air intake system and no-smoking policy were implemented in order to improve indoor air quality.  The building is also designed with large windows and glass doors to provide the employees and its future building tenants access to natural lighting and quality views.
Lastly, high marks were given under Sustainable Sites for the careful master planning of  LISP IV's administration building. LISP IV adapted to the existing characteristics of the site, and it minimized any alterations to the land's natural contours, vegetation and the stream's flow patterns. A flood study was also conducted to ensure that LISP IV can withstand the highest possible flooding level in the area. In addition, a Rainwater Harvesting System was installed in the building to collect rainwater and use it for landscape irrigation of the surrounding areas.
The LEED-certified LISP IV Administration building is located within LISP IV, an industrial park designed and developed as a true live-work-play community comprised of 170-hectare industrial area, 5-hectare retail and institutional destination and a 37-hectare residential neighborhood.
LEED helps SPPI to meet its Environmental, Social, and Governance (ESG) goals in providing a robust and globally recognized green building framework to measure and manage their real estate performance. It also helps in the implementation of management practices to prioritize building efficiency, decrease operational costs, increase asset value and ensure productivity, comfort, health and well-being of the building occupants. Moreover, LEED provides environmental benefits such as reduced energy use and carbon emissions, water conservation, waste reduction and implementation of sustainable strategies.
SPPI has always been committed to develop green and sustainable developments driven by industry-leading innovation from site selection, to design, construction, and operations. This is reflected by SPPI's Mission Statement and Environmental Policy and has been translated into pioneering environmental and sustainable activities such as being the first privately-owned ecozone with a centralized wastewater treatment facility and the attainment of ISO 14001:2015 Certification for Environmental Management.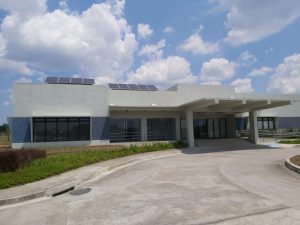 LISP IV Administration Building
LISP IV Masterplan