Aquilini Renewable Energy Philippines, Inc. (Aquilini), a wholly-owned subsidiary of Aquilini Renewable Energy, Inc. of Canada will set up a hazardous waste treatment and disposal facility in Cebu Light Industrial Park (CLIP).
The Facility will serve the locators of CLIP, Mactan Economic Zone and Philippine Economic Zone Authority. (PEZA), and other special ecozones in the area.
The facility will recover and convert a combination of solid, industrial, toxic and hazardous waste of PEZA ecozone locators into energy within a controlled, proven, and environmentally friendly process. Such waste utilization was identified by the Global Roundtable on Climate Change as a major technology which can assist in the reversal of climate change.
Aquilini's investment at CLIP is envisaged to benefit the Philippines tremendously. It will lessen the need for fossil-dependent energy production, thus generating dollar savings for the country.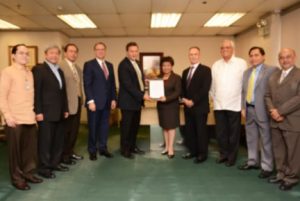 (L-R): Aquilini Renewable Energy, Inc. of Canada President John Negrin, together with Canadian Ambassador to the Philippines Christopher Thornley (fourth from left), receives the Certificate of Registration from PEZA Director General Lilia B. de Lima. Also in the photo are (left to right): PEZA Deputy Director for Policy and Planning Tereso Panga, Science Park of the Philippines, Inc. (SPPI) Chairman Rommel M. Leuterio, Aquilini Philippines Group Corporate Secretary Atty. Pastor M. Reyes Jr., Ambassador Thornley, Mr. Negrin, DG de Lima, Aquilini Investment Group of Canada Chief Financial Officer Renzo Barazzuol, PEZA Board Private Sector Representative Francisco Ferrer, SPPI Vice President for Marketing Ed Zamora, and Aquilini Renewable Energy Philippines, Inc. President Jesus A. Jayme Jr
SPPI was established in 1989, and through the years, has gained the reputation of being a cutting edge developer of industrial estates through its Light Industry & Science Park projects.
Today, SPPI is highly regarded as one of the pioneers and leaders in private industrial estate development in the country and has the largest hectarage of industrial estates developed, and being developed with almost 800 hectares of aggregate area.